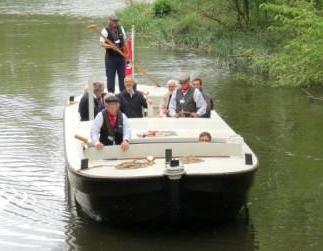 Stour barges, or lighters, featured in many of Constable's most famous paintings depicting the working river and our restored lighter has been named in his honour.
Passenger services were officially launched by River Stour Trust Vice President, Griff Rhys Jones, in May 2013.
The restoration of this vessel was made possible through Heritage Lottery Funding as part of the Managing a Masterpiece scheme. Click here to find out more about the lighter's restoration.
The John Constable Lighter is based at Sudbury, Suffolk and is available for private charters between Sudbury, Great Cornard and Great Henny. She is often used as a 'floating classroom' for educational visits.
There are a range of trips you can enjoy, such as:
Return cruise to Great Henny where passengers can disembark to enjoy a meal at The Henny Swan
A visit to our Visitor Education Centre to enjoy a picnic by the river
River trips for guests attending functions at RST venues or The Henny Swan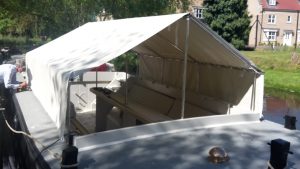 The John Constable is an open boat so it is not covered in the event of rain during the cruise. A purpose-built canopy can be fitted before your journey to act as shelter from the rain or the sunshine.
All trips are dependent on availability, weather and river conditions. The John Constable is particularly susceptible to bad weather/stream conditions and trips could be cancelled at short notice to ensure the safety of our passengers and volunteers. Our boats only operate within civil twilight hours for safety and insurance reasons.
PRIVATE CHARTERS – Half Day (up to 4 hours) – £220.00
ALL ENQUIRIES: 01787 313199
Visit TripAdvisor to read the reviews and/or leave your own comments.