EASTER UNTIL END OF OCTOBER
UPDATE 21 OCTOBER 2023 – River is in spate following Storm Babet so boat trips are not possible for the remainder of the season. We look forward to welcoming you aboard in 2024.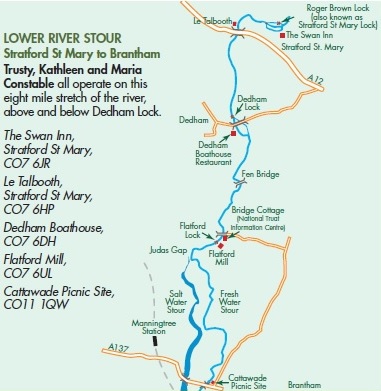 Trusty, Kathleen and Maria Constable operate on the eight mile stretch above and below Dedham Lock. Trusty and Maria operate below Dedham Lock whilst Kathleen operates above Dedham Lock.
Our boats are crewed by fully trained volunteers and are available for scheduled trips and private charters. Proceeds go towards the charitable aims and objectives of the River Stour Trust.
View our Dedham Vale boats – click here (opens new window).
We also offer boat trips on the three mile stretch at Sudbury aboard our boats Rosette, Francis J Batten, Edwardian Lady and the John Constable Lighter. Click here for more information.
Visit River Stour Trust – Day Tours on Trip Advisor to read the reviews and/or leave your own comments.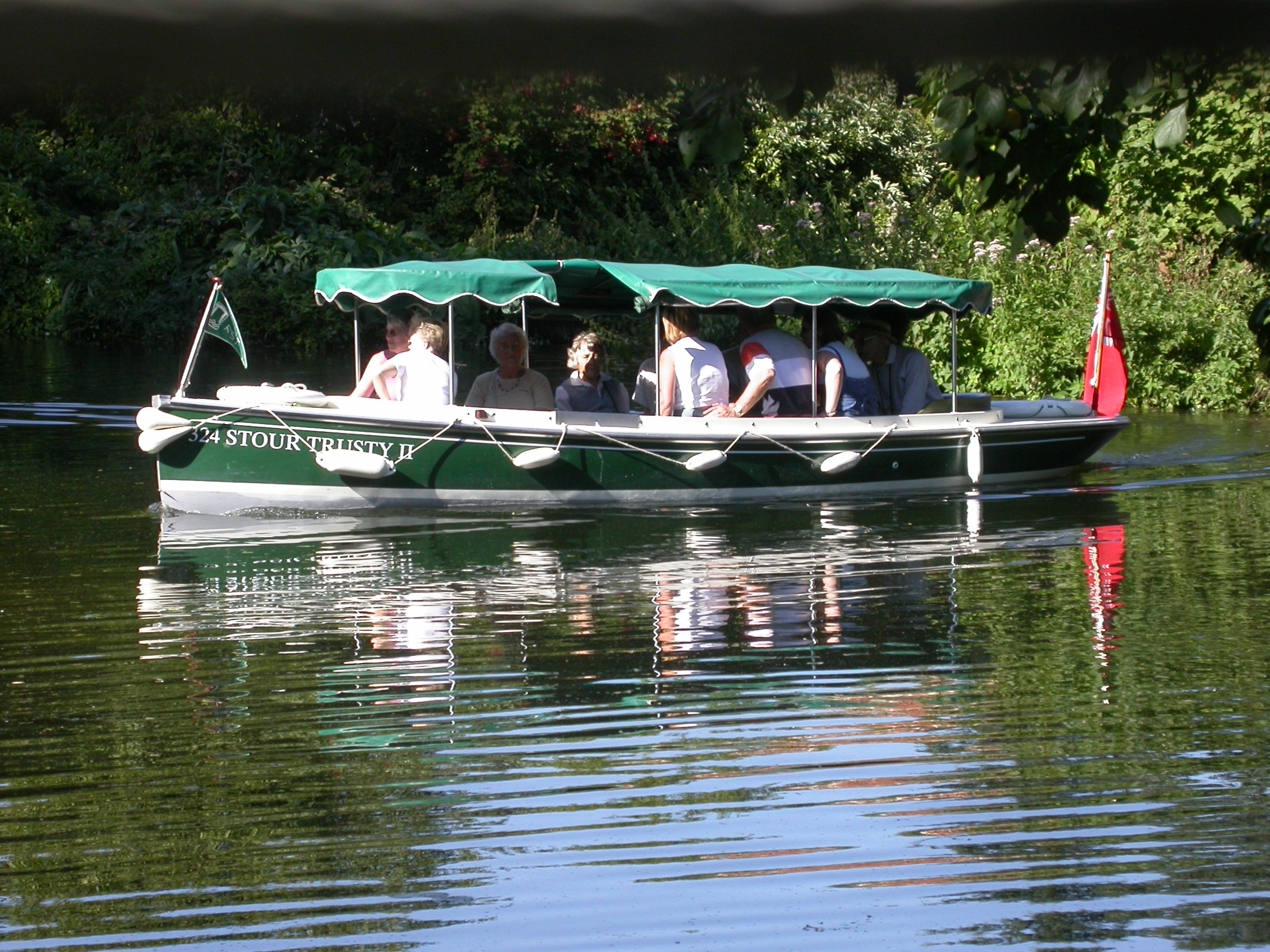 SCHEDULED TRIPS AT FLATFORD
| DAYS* | TRIP | DURATION | DEPART TIME | TYPE |
| --- | --- | --- | --- | --- |
| Fridays, Saturdays & Sundays | Flatford Half Hour | 30 mins | 11am-4pm | Walk on |
| Other advertised days | Flatford Half Hour | 30 mins | 11am-4pm | Walk on |
| Sundays | Talbooth Half Hour | 30 mins | 2pm-4pm | Talbooth customers |
*Please note: We publish monthly timetables. Our boats are crewed by fully trained volunteers who donate their time, energy and skills to share their enjoyment of the River Stour Navigation. We intend for boat trips to be running on expected days but apologise for any disappointment when it is not possible for any reason.
FLATFORD SHORT TRIPS
Non-landing return trips to Fen Bridge
Boarding Location:
Fares
| Passenger Types & Fares | Count towards boat capacity | Short Trips |
| --- | --- | --- |
| Adult (12 years+) | Yes | £6.00 |
| Child (5-11 years) | Yes | £3.00 |
| Infant (1-4 years) | Yes | N/A |
| Baby (under 12 months) | No | N/A |
| Dog | No | £1.00 |
No advance booking – book & pay in person on the day – cash or card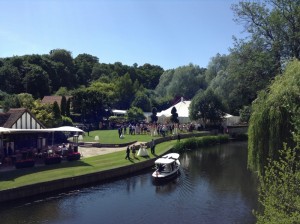 ---
SUNDAYS AFTERNOON KATHLEEN CHARTERS
Trip details: Diners at Talbooth Restaurant can pre-arrange a cruise aboard Kathleen for £100 (up to 1 hour). Charters are subject to crew availability. Please give as much notice as possible so we can try and organise a crew (see charter number below).
Half hour return trip upstream to Stratford St Mary Mill Pond
Half hour return trip downstream to Dedham Mill Pond.
Hour return trip both downstream and upstream between Dedham and Stratford.
Boarding Location:
---
PRIVATE CHARTERS
Charter Enquiries: 0844 800 5017*
Please note: The 0844 numbers are often connected to personal home telephones of a River Stour Trust volunteer. 0844/45 numbers cost 7p per minute plus your phone company's access charge. Example: BT standard call charge 23p pence per minute. Mobile charges can be considerably more.
SERVICE UPDATE: Dedham lock is currently impassable so we cannot book charters requiring passage through the lock. We are continuing with our plans and negotiations to restore this lock at the earliest opportunity.
Charter Charges
1 hour – £100.00
2 hours – £150.00
Our charters offer breathtaking journeys through Constable Country and the Dedham Vale. The charter charge is dependent on your requirements and the distance to travel between locations. There are various options for refreshments or meals in Dedham and Flatford/East Bergholt.
Trusty is an electric boat that can potentially accommodate up to 9 passengers along with a Skipper. She is one of the only powered craft permitted to operate between Stratford St Mary, Dedham, Flatford and Brantham. Our electric boat, Maria Constable, currently operates alongside Trusty. Whilst Dedham Lock is currently unusable, the boats operate below the lock on the stretch between Dedham Boathouse Restaurant (her mooring), Fen Bridge, Flatford, Flatford Lock, and Cattawade/Brantham.
Trips above Dedham Lock are possible aboard our electric boat, Kathleen, that can also potentially accommodate up to 9 passengers with a Skipper. She operates above Dedham Lock on the stretch between Dedham (her mooring is at Le Talbooth), Dedham Mill Pond, Stratford St Mary Mill Pond and the Roger Brown Lock (also known as Stratford St Mary Lock).
---
MAKE YOUR VISIT EVEN MORE MEMORABLE BY VISITING OUR RECOMMENDED PLACES TO VISIT…
Flatford is great walking countryside so you can take the family out, walk the dog or simply step back in time and absorb the places Constable knew and loved. There is also plenty of parking in the National Trust car park at Flatford (fee payable, free for NT members).
A visit to the National Trust's Bridge Cottage shouldn't be missed. Take a look at an exhibition about Constable and enjoy the riverside Tearoom. www.nationaltrust.org.uk/flatford-bridge-cottage/visitor-information
The RSPB Garden is one third of a hectare, so there are no long walks. There are several benches in the garden and visitors are welcome to use for picnics – https://www.rspb.org.uk/reserves-and-events/reserves-a-z/flatford-wildlife-garden/facilities
The Kitchen at Dedham (formerly known as Dedham Boathouse Restaurant) From boatyard to brasserie and beyond – https://thekitchenatgroup.co.uk/locations/kitchen-dedham
Talbooth Restaurant is another riverside restaurant that has been run by the Milsom family since 1952. It is available for private functions including weddings – www.milsomhotels.com/letalbooth