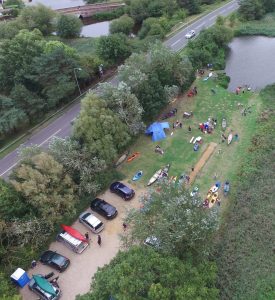 Situated in the heart of Constable country, on the edge of the Stour estuary. The River Stour Trust took over the freehold of Cattawade Picnic Site to ensure this vital river access point was retained.
There is also an opportunity to make use of this area for those seeking an opportunity to fish, picnic, birdwatch or walk along the Stour Valley Path, which follows the river between Brantham and Newmarket. It is locally renowned for its excellent location for bird watching. On a good day you can see redshank, lapwings and oystercatchers breeding on the pastures of Cattawade Marshes.
We ask that visitors are considerate of the residents who live adjacent to the site. It is usually open year round but we reserve the right to close the site when the need arises.
---
Location/Address:
Cattawade Picnic Site off Bergholt Road, Brantham, Manningtree, Essex, CO11 1QW –

located beside the river Stour near the junction of the A137 and B1070 in Brantham.
Click here for link to Google Maps.
What3Words: ///movement.fishery.landscape
Please note:
This facility is intended for use by those seeking an opportunity to paddle the river, fish, picnic, birdwatch or walk along the Stour Valley Path.
There is a small free car park with 14 spaces for average sized vehicles.
Unfortunately, there are no toilet facilities on site.
We do not condone the use of BBQ's.
Camping is not permitted.
We request that litter is placed in the bins by the entrance or taken away.
The gates are sometimes closed at dusk to preclude late night visits.
We reserve the right to close the site or limit access as the need arises.
---
Angling – The relevant information regarding angling and rod licenses can be obtained from the Environment Agency (https://www.gov.uk/fishing-licences) or local angling clubs.
River User: If you need information on registering your craft for use on the river, please follow this link: https://www.riverstourtrust.org/river-trips/navigation-guide/
---
ANNUAL CLOSURE – Sudbury to the Sea
This event results in heavier than usual traffic so the single lane track to the site has to be controlled to prioritise emergency access and minimise congestion. The lane specifically provides access to a couple of residential dwellings and Cattawade Picnic Site and we anticipate support from the general public since this restriction is only in place once per year.
We need to allow sufficient space for vehicles and people (including children) to safely manoeuvre in order to retrieve craft, people and equipment. We advised all S2C participants to park elsewhere until they or their support crew were in a position to arrange collection and vacate the area. The volunteers manning the top of the lane were tasked with controlling access and anyone on the site that day was taking part in the event either as a participant, support vehicle or volunteer.