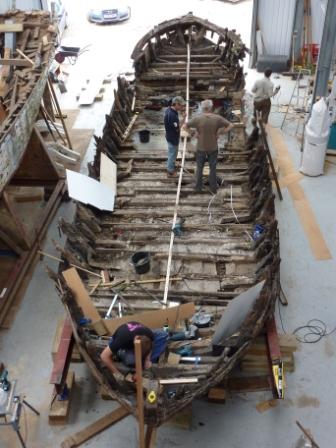 Over 120 years ago a Stour Lighter was built at Flatford and plied its trade from Manningtree to Sudbury along the 300 year old navigation that is the River Stour. The John Constable Lighter is on the Historic Ship's Register as being of regional historical interest.
The River Stour Trust, working together with the Managing a Masterpiece team, contracted the Pioneer Sailing Trust to restore the lighter to its former glory. We were delighted that this scheme comprised funding for a boat building apprenticeship.
When restored the lighter will once again be used on the River Stour. A management group liaised with the project team during the reconstruction work and to plan the future operation of the lighter.
The restoration project was a major part of the Managing a Masterpiece project achieving a Heritage Lottery Fund grant of almost £1 million (read more). Managing a Masterpiece was a three year programme, comprising 14 projects covering archaeology, biodiversity, and conservation of historic features; to understand, conserve and celebrate the landscape of the Stour Valley. Click here to find out more.
The Pioneer Sailing Trust was set up in 1999 to restore back to sailing condition the last remaining 1st Class Essex Skillinger Smack Pioneer. She is now fitted out with accommodation for groups of 12, and her 3 professional crew, sailing on the river Colne between April and October. To find out more, visit their website – www.pioneersailingtrust.org.uk
Restoration Progress
Gallery: To view images of the Stour Lighter – click here.
September 2012 – The newly restored John Constable Lighter….
2011/12 – We are starting to see what a beautiful vessel the John Constable will be…
April 2011 – The dimensions of the lighter have been carefully recorded…
December 2010 – Delivery of the oak was taken to be seasoned over the winter period…
July/August 2010 – The lighter's restoration commences…
Tuesday 22nd June 2010 – The John Constable Lighter was lifted…