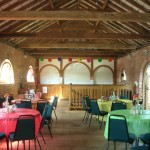 The Small Social applies to small/short duration bookings such as baby showers, hen parties, naming ceremonies, networking events, wakes, etc for no more than 60 people in attendance with the hire period no later than 11pm.
This rate is available on a Monday, Tuesday, Wednesday or Thursday during the year and can potentially be arranged on Fridays or Saturdays between October-February.
Please always contact us to verify availability. We have regular users of The Granary so please visit our Classes at The Granary page to avoid clashes.
SMALL SOCIAL BOOKINGS RATE
Rate for Monday-Thursday bookings throughout the year or Fridays and Saturdays between October-February
No more than 60 people in attendance
Hire period no later than 11pm
£180.00 (up to 4 hours comprising 2 hours of staffed bar)
Additional Charges

Additional Hire – £25 per hour
Additional Bar (within hire period) – £30 per hour
Additional Hire with Bar – £45 per hour
The hire is inclusive of:
4 hour hire period with fully licensed, stocked and staffed pay bar for up to 2 hours
Fully licensed for music, singing and dancing
Tables and chairs (set up before and cleared away after your event)
Use of our catering standard kitchen facilities
Please refer to our full list of services and facilities which may apply to your booking (click here)
Bar Services / Provision of drinks
The River Stour Trust holds a premises license for the Granary and in accordance with the Licensing Act 2003 all beers, wines, spirits, ciders and soft drinks dispensed there must be supplied by or through the River Stour Trust.
Please make your guests aware of our drinks policy. If drinks are found on our premises then the drinks deposit is potentially forfeited.
Other Services
You are welcome to choose your own suppliers for catering, decorating, entertainment, etc and we can recommend suppliers familiar with our venue.
Your chosen supplier/s must be able to provide us with copies of relevant certificates/paperwork proving that they hold current:
Public Liability Insurance
PAT Testing Certificate/s (for any electrical equipment to be brought onto the site)
In the case of food suppliers, they are registered with the environmental health service of their local authority and hold a Food Hygiene Rating score of 3 or more.
Click here to go back to main page for useful downloads/links and the online booking facility.