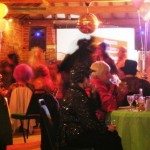 The General Party Bookings rate applies to bookings held on any day of the week and is suitable for functions such as birthday parties, fundraising events, anniversary celebrations, etc. We do not cater for 18th birthday parties and an additional charge applies for parties celebrating birthday ages of 19-25 years where fully trained and registered security personnel are required.
Alongside the hire charge, refundable breakage and drinks deposits are payable one calendar month prior to the booking.  
Standard Hire Charges:
Monday-Thursday

£300.00
Additional Hire – £25 per hour
Additional Bar (within hire period) – £30 per hour
Additional Hire with Bar – £45 per hour

Friday/Saturday

£380.00
Additional Hire – £35 per hour
Additional Bar (within hire period) – £40 per hour
Additional Hire with Bar – £55 per hour

Additional Charges

Refundable Breakage Deposit – £250.00
Refundable Drinks Deposit – £100.00
The hire is inclusive of:
Standard 8 hour hire period: 4pm-Midnight
Fully licensed, stocked and staffed pay bar for up to 4 hours (usual bar hours 7pm-11pm)
Fully licensed for music, singing and dancing until 11.30pm
Tables and chairs (set up before and cleared away after your event)
Use of our catering standard kitchen facilities
Please refer to our full list of services and facilities which may apply to your booking (click here)
Bar Service
The River Stour Trust holds a premises license for the Granary and in accordance with the Licensing Act 2003 all beers, wines, spirits, ciders and soft drinks dispensed there must be supplied by or through the River Stour Trust.
Please make your guests aware of our drinks policy because contravening this forfeits the drinks deposit.
Other Services
You are welcome to choose your own suppliers for catering, decorating, entertainment, etc and we can recommend suppliers familiar with our venue. 
Your chosen supplier/s must be able to provide us with copies of relevant certificates/paperwork proving that they hold current:
Public Liability Insurance
PAT Testing Certificate/s (for any electrical equipment to be brought onto the site)
In the case of food suppliers, they are registered with the environmental health service of their local authority and hold a Food Hygiene Rating score of 3 or more.
 
Click here to go back to main page for useful downloads/links and the online booking facility.