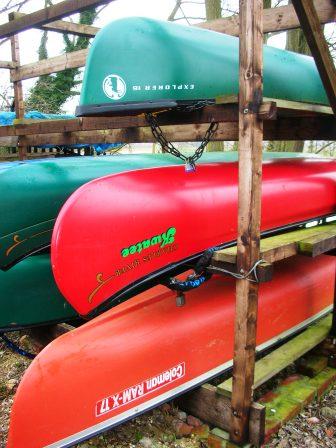 We are pleased to offer craft mooring and storage at both our riverside venues. Craft moored or stored are for private and pleasure use only – no commercial activities other than those expressly approved by the River Stour Trust are permitted.
*STORAGE AT MAXIMUM CAPACITY – THERE IS A LONG WAITING LIST!* 
Please contact us to determine availability before completing the required paperwork and payment. Apply online or apply by post- see details below.
Annual Rates:
Floating Mooring – £12.00 per foot (£100.00 minimum charge applies)
Craft Storage (land based) – £55.00
Launch/River Access Privileges – £40.00
AND River Stour Trust membership subscription (click here)
Current users of the facility can pay the renewal fees online – click here
---
PLEASE CONTACT US TO DETERMINE AVAILABILITY BEFORE COMPLETING THE REQUIRED PAPERWORK AND PAYMENT.
APPLY ONLINE 
A quick, straightforward and completely secure alternative to postal applications. We use PayPal to process online bank or card payments and your financial details are never shared.PayPal accepts payments from Mastercard/Eurocard, Visa/Delta/Electron, Discover, American Express, Switch/Maestro or Solo cards. You do not need a PayPal account to use this facility.
Determine availability with us before proceeding to an application.
Read our policies then click on the link to complete the online application – click here (new window opens)
We shall be in touch to complete your application
APPLY BY POST
You can download and print the required forms to send or give in person (see below) or contact us and we will send you the required forms.
You can download the following documents by clicking on the links below:
Read the Moorings and Storage Policy as well as the Site Access Agreement Policy (see above).
Download, print and complete the Moorings & Storage Application Form (see above).
Enclose the required fee with the completed form (please make cheque payable to 'River Stour Trust).
Send completed paperwork and payment to either of our venues: