REGISTER TO PADDLE THE SUFFOLK & ESSEX RIVER STOUR
If you want to paddle on many waterways you often need a 'licence' to do so. The navigation authority for the Suffolk & Essex River Stour (and other waterways) is the Environment Agency.
Powered and/or business craft? Apply directly to the Environment Agency – click here

"Powered boat" means a boat which is mechanically propelled by a combustion engine, steam engine or electric motor.
"Business boat" means a boat kept or used on a waterway which is not kept or used solely as a private boat. The River Stour Trust is unable to process business boat registrations.

Unpowered and private use craft? See registration options below.

"Unpowered open boat" means a boat that is not mechanically propelled; and is either open to the elements with no enclosed or decked accommodation space (including a rowing boat, dragon boat, punt, dinghy with or without sail, canoe, paddle board, light inflatable) or the occupants are only protected by a spray deck (including a kayak).
"Private boat" means any boat that is kept and used on a waterway solely for private leisure purposes, and not for the purposes of generating income for any organisation or business or for providing a service to others.
Unpowered registrations are valid for use on all Environment Agency waterways. You have three options to register your craft whether it is a kayak, canoe, stand up paddleboard (SUP), rowboat and/or inflatable.
ENVIRONMENT AGENCY (EA)
Registration covers the specified craft.
You can register your craft/s (powered/unpowered, private/business) for a specific period within their seasonal period. Visit 'Boating & Waterways' section.
BRITISH CANOEING (BC)
Membership covers specified person/s.
You can register an individual/couple/family with 'On the Water' membership that permits the member on certain navigations in England with other benefits.
RIVER STOUR TRUST (RST)
Registration (on behalf of EA) covers the specified craft.
We can process applications for your craft/s (unpowered/private use only) on behalf of the EA. We also sell useful optional extras such as the Navigation Guide.
APPLY BELOW!
---
2023/24 UNPOWERED CRAFT REGISTRATION FEES
VALID BETWEEN 1 APRIL 2023 – 31 MARCH 2024
Can't see table? Click here to view image.
| DAILY | WEEKLY | MONTHLY | ANNUAL |
| --- | --- | --- | --- |
| Valid for 24 consecutive hours | Valid up to 7 consecutive days | Valid up to 31 consecutive days | Valid between 1 APRIL 2023 – 31 MARCH 2024 |
| £5.40 | £11.30 | £21.40 | £47.70 |
| Valid from date and time on submitted application form, subject to terms. | Valid from date and time on submitted application form, subject to terms. | Valid from date and time on submitted application form, subject to terms. | Expires on 31 March 2024 regardless of start date. No pro rata charge. |
Each order subject to additional fee of £2.00
Please note: You will need to pay any additional amount, which may be due, if it is found that the boat has been registered incorrectly based on the information you have provided.
Order Process
Click on relevant heading above for your chosen registration type (daily, weekly, monthy or annual).
Complete and submit online application and payment.

Copes of River Stour Navigation Guide can also be added to order during the application.
Please type email address carefully as this is used for electronic receipt.
Please check spam/junk folders for confirmation emails because you need these to show a river inspector until you receive your disc
Only monthly/annual craft registrations and/or the Navigation Guide will also be sent by post.

Orders are processed as quickly as possible but please allow up to 10 working days. There can be delays during busy periods, particularly if any information is missing or we need further details to process your application.
Any issues- please email administrator@riverstourtrust.org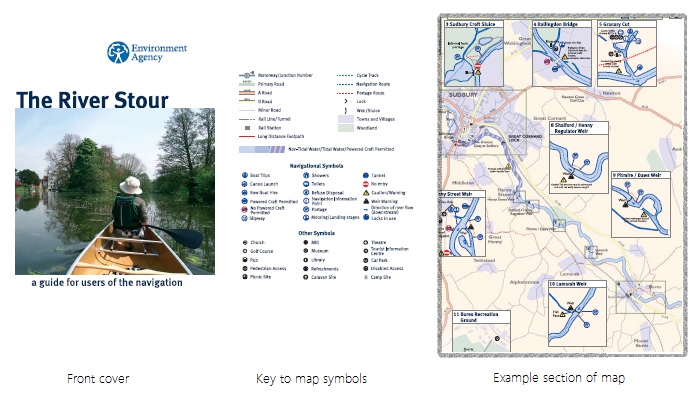 RIVER STOUR NAVIGATION GUIDE
An indispensable guide printed on damp proof paper with map of the entire navigable route, details and locations of the portages, launching sites, riverside campsite and contact information for relevant organisations). Size A5 when folded but opens up to size A2.
£4.00 (available to purchase during all registration applications)