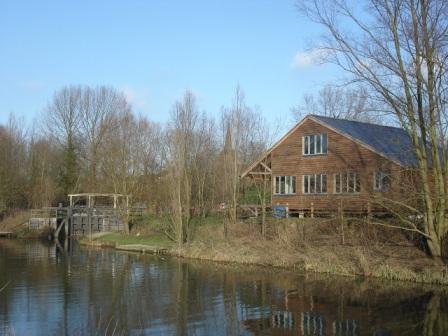 Address: Visitor Education Centre, Dove House Meadow, Great Cornard, Suffolk, CO10 0GF
– Click here for link to Google Maps
Gallery: To view images of the Visitor Education Centre (VEC) – click here.
The building is a significant venture for the Trust and was part-funded by the Millennium Commission. It is adjacent to Great Cornard Lock and is used to promote the River Stour Navigation, its importance in Britain's industrial and cultural heritage, and the Trust's own role in promoting use of this historic waterway.
It houses our administrative office and archival records that will provide resources for schools, students and researchers. It is a destination for walkers, cyclists and boaters with a footpath and cycleway running alongside the river from the main road. We support the proposed link between Sudbury and Great Cornard via a riverside footpath to enable easy access between these locations.
Opening Hours: The adminstrative office is based on site and is usually open on weekdays 10am-4pm (closed for lunch 1pm-2pm). However, it is always advisable to telephone before you visit in order to avoid disappointment.
Please note: that vehicular access and egress to and from the VEC is only via the roadway closest to our boundary fence (over the millstream). There is no access or egress next to the pumping station (other than emergency vehicle use). No parking is permitted anywhere on the river bank at any time e.g. parking is prohibited beyond the bollards that are installed opposite the VEC entrance gate.
Educational Visits: The building is ideal for a range of ages and activities. Click here for more information.
Private Hire: The venue can be privately hired for both community and private events. Click here for more information.
Hire Payment Online: If you have booked The VEC then it is now possible to pay the hire charges online with a debit/credit card or PayPal account. Click here to go to the relevant page.
Craft storage: Land-based storage and floating moorings are offered on an annual basis. Click here for more information.