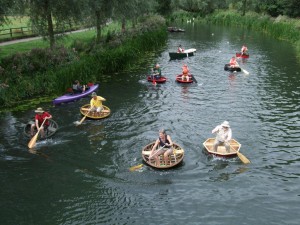 This event is held annually in August at Bures Recreation Ground near the Cricket pavilion by the river. This event has a fancy name but is in fact a FREE, low key, laid back, fun afternoon.
We work alongside the Coracle Society and coracle owners to offer everyone an opportunity to try and handle one of these unusual craft.
The 'coraclers' not only share their craft but spend time explaining the best way of moving along the river. If you own a coracle but would prefer not to share it just bring it along and join in the fun.
People of all ages can have a go and some get wet! Life jackets are available and there are safety boats on hand. Spectators are kept entertained throughout the afternoon by races such as the 'Poachers Run'.
Light refreshments are available. There is no admission charge but donations are gratefully accepted should anyone wish to help cover the cost of using the Pavilion's toilets.
If you would like to help run this event or for more information please contact Helen Richardson on 01787 376287