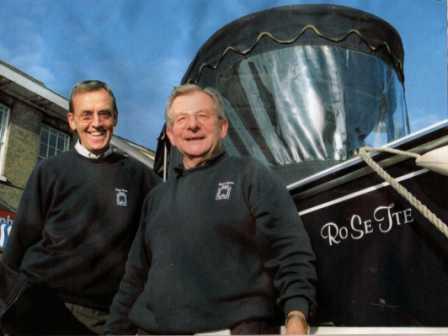 Join today and you will be supporting our campaign to restore and conserve the River Stour Navigation. We would not be able to progress our aims without the support of our dedicated and enthusiastic members and volunteers.
MEMBERSHIP RENEWAL Existing members can renew their membership online – click here.
JOIN US
As a member you will be supporting our aims and objectives. We hope that you will be able to actively participate by assisting and promoting our activities, events and projects.
You can make new friends and learn more about what we do by coming along to members' social events (click here for details). You will receive a copy of our our biannual magazine, Lock Lintel, and we will contact you about news and events by sending newsletters and electronic updates throughout the year.
If you want to be an active member then we offer all kinds of activities:
taking part in working parties at sites along the River Stour – click here
crewing our trips boats based at Flatford/Dedham and Sudbury – click here
helping in our riverside tea room at Sudbury – click here
helping with our fund-raising events and activities – click here
being a member of a committee to progress our aims – click here
there are also many other ways to help and get involved such as helping to maintain our archives, manning a stand at shows/events, greeting and assisting visitors to our venues on open days, etc
Lock Lintel -  This is our biannual magazine that is sent to all our members. It contains news about the river, Trust activities and local interest articles. Click here to read some previous editions.
Annual Subscriptions
£15.00 – Individuals / Senior Citizen Couples
£20.00 – Couples / Club
£10.00 – Senior Citizen
£40.00 – Corporate (up to 20 employees)
£100.00 – Corporate (more than 20 employees)

The completion of the Gift Aid Declaration allows the Trust to benefit because we can reclaim up to an extra 28p for every £1 that is paid in subscriptions or donations at no additional cost to you! You need to be a UK tax payer paying an amount of Income Tax or Capital Gains Tax equal to the tax which will be reclaimed on your behalf (up to 28p for every £1).
Download, print and complete the form to send in the post- click here.
Complete the form online- click here.
MEMBERSHIP APPLICATIONS
All membership applications are to be formally approved by the River Stour Trust Council and in the highly unlikely event that your application is not accepted then you will receive notification and a full refund of your initial subscription. We will reply to confirm receipt of your application as soon as possible.
JOIN BY POST / IN PERSON - You can download and print the required forms to send or give in person (see below) or contact us and we will send you the required forms.
Download and read River Stour Trust Memorandum and Articles of Association.
Download, print and complete the Membership Application Form (or contact us to request the form)
Enclose your initial subscription with the completed form (please make cheque payable to 'River Stour Trust or contact us to request our Banker's Standing Order Form)
Send completed paperwork and subscription to: Membership Secretary, The Granary Quay Lane, Sudbury, Suffolk, CO10 2AN.
JOIN ONLINE – A quick, straightforward and completely secure alternative to postal applications. We use PayPal to process online bank or card payments and your financial details are never shared.PayPal accepts payments from Mastercard/Eurocard, Visa/Delta/Electron, Discover, American Express, Switch/Maestro or Solo cards. You do not need a PayPal account to use this facility.
Download and read River Stour Trust Memorandum and Articles of Association.
Click on the following link to complete Online Membership Application.
Upon successful completion of the online application you will be able to pay your initial subscription online.
We will confirm receipt of your membership application as soon as possible.
You can download the following documents by clicking on the links below: