View map of the River Stour below (click on image to enlarge):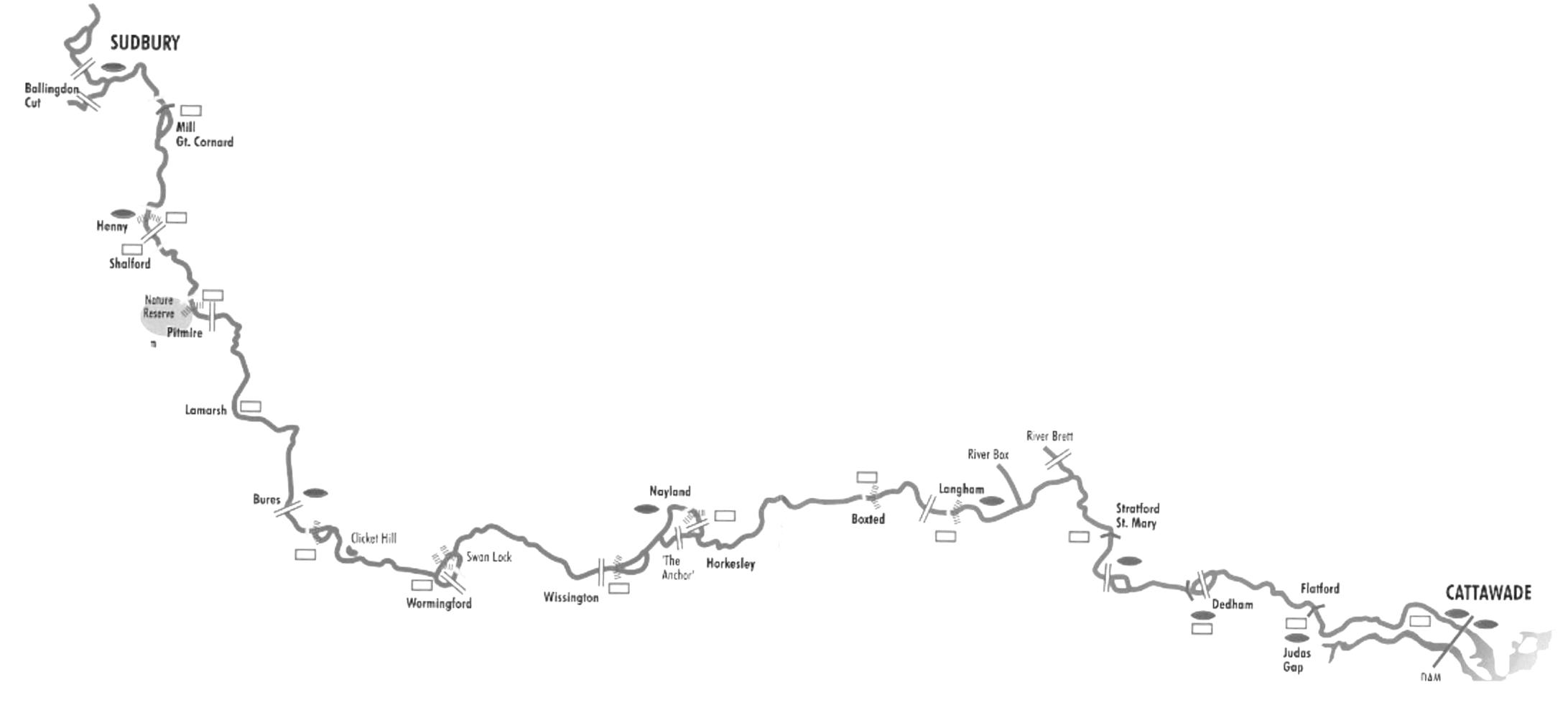 The Environment Agency (EA) is the navigation authority for the section of the Stour that runs from Brundon Mill (upstream of Sudbury) to Cattawade (near Manningtree). Through navigation is possible for all types of craft from Sudbury to Great Henny, travelling through Great Cornard Lock. Lighter craft, such as canoes and kayaks, can be portaged between Great Henny and Stratford St Mary. Larger, manually propelled craft can travel from Stratford St Mary to Brantham using the locks at Dedham and Flatford.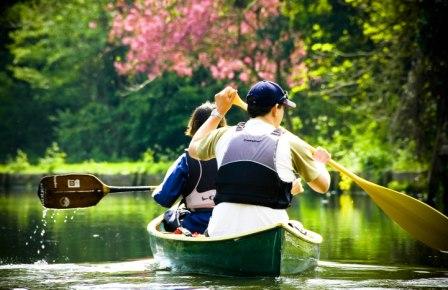 Craft Registration – All craft must be registered to take to the water on any part of the Inland Waterway network of England (canals, rivers, navigations). There are a number of ways that this can be achieved:
You can register your craft annually with the Environment Agency or obtain a short term/visitor registration. Visit the 'At Home & Leisure' section of their website – www.environment-agency.gov.uk
The River Stour Trust can issue craft registrations for manually propelled craft on behalf of the Environment Agency. Click here for more information.
You can join Canoe England (part of the British Canoe Union) – annual membership permits your craft on all navigations in England and provides Civil Liability Insurance amongst other benefits – www.canoe-england.org.uk/membership
Navigation Guide
The Environment Agency have produced a very good guide for paddlers on the River Stour telling you all about the portages, the launching sites and gives details of the camp-site. A safety guide is also available and both these guides can be downloaded- click here.
Alternatively, pay the River Stour Trust £1 (to cover post and packing) and we will send you a copy printed of damp proof paper – only whilst stocks last! Remember to contact us to check that we have copies in stock before making the payment! £1.00 per copy
Report Incidents – 0800 80 70 60
Incident Hotline (Freephone*, 24 hour service, *Calls from mobile phones are not free and will be charged at normal network operator's call rates). The Environment Agency will deal with issues including environmental concerns, flood risk and unusual drop in river flow. For further guidance – click on this link.
Leptospirosis (Weil's Disease)
It is important that all river users are familiar with the symptoms of this infection, which are similar to those of influenza (temperature, muscle aches and nausea). Leptospira bacteria is often carried by rats and excreted in their urine, which contaminates the waterways. Infection is more likely in slow-moving or stagnant water in areas where agriculture and rodents mix but exposure can be heightened through some activities e.g. angling where minor cuts and nicks are common; or swimming where some water will almost inevitably enter the mouth.
Precautions:
Be aware that activities that can cause open wounds or that take place near the water's edge where rat urine is more likely to be found increase the risk of contracting the disease.
Do not swallow river water
Avoid capsize drill or rolling in stagnant or slow moving water
Wash your hands before eating
Cover minor scratches, cuts and abrasions on exposed parts of the body with waterproof plasters
Where possible, wash or shower after taking part in water sports and riverside activities
Consult your doctor if you feel ill after coming into contact with water anywhere near or in the river.