Stour Trusty II is an electric boat that can accommodate up to 8 passengers; and she is one of the only powered craft licensed to operate between Stratford St Mary, Dedham, Flatford and Brantham. Our electric boat, Kathleen, can also accommodate up to 8 passengers and is available for trips from Le Talbooth at Dedham. Our boat trips are available annually from Spring until the end of October. You can find out more about our boats by clicking here.
2016 Season
Easter-Sunday 30 October: All Scheduled Trips and Private Charters
Please note:
Calls to the 0844 numbers cost 7p per minute plus your phone company's access charge
All trips are dependent on availability, weather and river conditions to ensure the safety of our passengers and volunteers.
The boats only operate within civil twilight hours for safety and insurance reasons.
Passenger numbers on all our boats are subject to load capacity.
The River Stour Trust operate the electric boat trips and are entirely separate to Dedham Boathouse Restaurant (who run the restaurant and rowboats) and Le Talbooth (who run the restaurant and function venue).
PRIVATE CHARTERS

All enquiries and charter arrangements: 0844 800 5017*
SERVICE UPDATE: We are unable to book any charters to Stratford St. Mary because Dedham lock is currently unusable. We are continuing with our plans and negotiations to restore both Stratford St Mary and Dedham locks at the earliest opportunity.
Charters currently offered:
4 Hour Charter (weekdays only)
The charge for a 4 hour charter is usually £220.00. For up to 8 passengers, on our electric boat, Stour Trusty II, this charter cruises over the full extent of the lower navigable Stour, from Dedham Boathouse, down through Flatford and Flatford Lock. En route you will pass through the old Brantham sea lock, and the RSPB Bird Reserve at Cattawade. On the return trip you may like to stop off for a walk round Flatford, while the crew bring the boat back up through Flatford Lock, then return upstream to Dedham.
1-2 Hour Charter (weekdays only)
The charter charge is usually £120.00 for 2 hours or £90.00 for 1 hour. Both our electric boats, Stour Trusty II and Kathleen, can take up to 8 passengers, offering breathtaking journeys through Constable country and the Dedham Vale. Charters with Kathleen board at Le Talbooth Restaurant in Dedham for a trip up river to Stratford St Mary, then down to Dedham, and back to the Le Talbooth. Alternatively opt for Stour Trusty II and board at the Dedham Boat House for a trip to Flatford and back again to Dedham.
The charter charge is dependant on your requirements and the distance to travel between locations. A meal at Le Talbooth or the Dedham Boathouse Restaurant provides the perfect addition to your cruise.
SCHEDULED TRIPS & FARES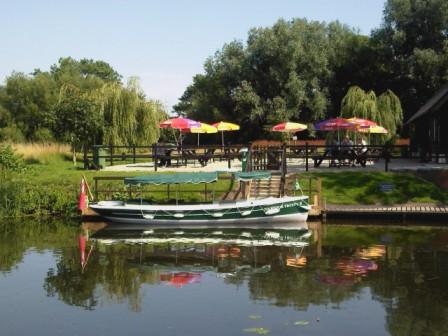 SATURDAYS
Waterbus Service
Half hour one way trips (no pre-booking before the day)
8 maximum per trip and subject to availability
Trips regularly departing from:
Dedham Boathouse Restaurant, CO10 6DH (click here for link to map) at 10.15am, 11.45am, 1.15pm, 2.45pm & 4.15pm
Flatford – opposite Bridge Cottage, CO7 6UL (click here for link to map) at 11am, 12.30pm, 2pm, 3.30pm & 5pm
Fares
One Way Trip – Adult £5.00, Child £3.00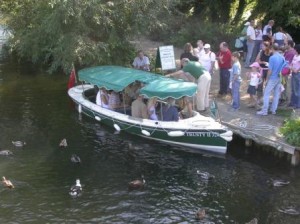 SUNDAYS & BANK HOLIDAYS
Heritage sightseeing trips
Half hour non-landing return trip to Fen Bridge
Regularly departing from Flatford – opposite Bridge Cottage, CO7 6UL (click here for link to map)
11.00am-5.00pm, no pre-booking before the day
Fares
Adult £5.00, Child £3.00
WEDNESDAYS IN SUMMER

Heritage sightseeing trips
July & August (also June & September subject to crew availability)
Half hour non-landing return trips to Fen Bridge
Regularly departing from Flatford – opposite Bridge Cottage, CO7 6UL (click here for link to map)
11.00am-5.00pm, no pre-booking before the day
We also hope to offer this service in June and September, subject to the availability of crew.
Fares
Adult £5.00, Child £3.00
Visit TripAdvisor to read the reviews and/or leave your own comments: River Stour Trust – Day Tours
DEDHAM VALE HOPPER BUS

The service starts on Tuesday 7th July and runs each Tuesday, Wednesday, Saturday and Sunday until Saturday 29th August. Click here to download the 2015 timetable
You can catch the bus from Hadleigh which will take you to Manningtree station or arrive there by train and from there you can hop on and hop off the bus during the day to enjoy the many attractions in the area including our boat trips. You can come to us by bus and take the boat back to Dedham or walk from Dedham and ride back by bus or by boat.  There are lots of other attractions to enjoy in the area including Flatford with its exhibition, walks, National Trust tea room and visitor centre and the RSPB Wildlife Garden, The Munnings Art Museum whilst Dedham offers its Church tower, Craft Centre, tea shops and restaurants.
Hadleigh Community Transport Group provides accessible transport in the Hadleigh and Lavenham areas for shopping, doctor and dentist appointments, visiting and socialising. Various services, are offered from local bus services operating to a time table, Suffolk Links – a pre booked service operating within an area, Dial a Ride and Wheels within Wheels for those unable to use a normal bus service. Visit www.hadleigh.org for more information.
MAKE YOUR VISIT EVEN MORE MEMORABLE BY VISITING OUR RECOMMENDED PLACES TO VISIT…

Dedham Boathouse Restaurant offers lunch and dinner with items on the menu changing every 6-8 weeks. They also own clinker built rowing boats that are available to hire.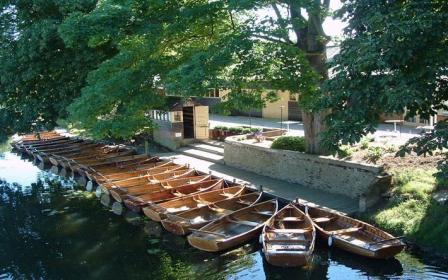 Restaurant
Tuesday to Friday: Lunch 12pm–2.30pm & Dinner 6.30pm-9.30pm
Saturday: Lunch 12pm–2.30pm & Dinner 6.30pm-10pm
Sunday – Lunch 12pm–2.30pm
Rowboat Hire
Tuesday to Sunday: 10am till 5pm
Open Mondays (including Bank Holidays) during School Holidays
The last boat for an hour goes out at 4pm – The last boat for 30 minutes goes out at 4.30pm
For more information: www.dedhamboathouse.co.uk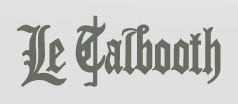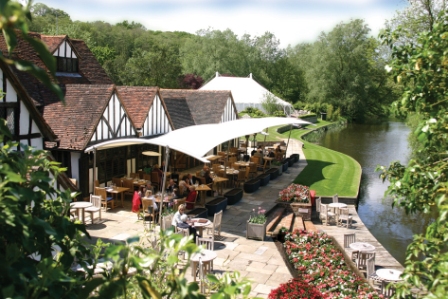 The riverside resaurant, Le Talbooth, has been run by the Milsom family since 1952. It is available for private functions including weddings.
Monday to Saturday: Lunch 12 noon-2.15pm & Dinner 7.00pm-9.30pm
Sundays: 12 noon–2.30pm
Evening Riverside BBQ's during the Summer
For more information: www.milsomhotels.com/letalbooth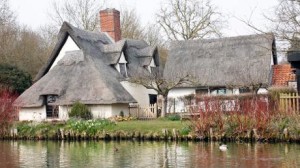 A visit to the National Trust's Bridge Cottage shouldn't be missed. Take a look at an exhibition about Constable and enjoy the riverside Tearoom.
Flatford is great walking countryside so you can take the family out, walk the dog or simply step back in time and absorb the places Constable knew and loved. There is also plenty of parking in the National Trust car park at Flatford (200 yards from Bridge Cottage, pay on entry, £3 per car, free for NT members).
For more information: www.nationaltrust.org.uk/flatford-bridge-cottage/visitor-information